Hummingbirds on TV!
A Special TV Episode on Hummingbirds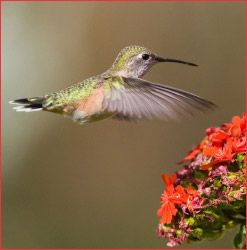 PBS recently aired a special Nature episode entitled Hummingbirds: Magic in the Air. This program is a must see! It describes the hummingbird diet and their natural instinct to feed from flowers.
This program will definitely change your perception of hummingbirds, once thought to be extremely delicate. Hummingbirds are tough creatures of nature – and one of the fastest!
Thanks to technology hummingbirds can now be viewed and studied more closely.
If you missed this program airing, no worries! You can check it out online at PBS.org
Birdfeeders.com is the top destination to find quality Wild Bird Feeders and Accessories. Perky-Pet®, K-Feeders® and NO/NO® wild bird products are trusted brands to bird lovers everywhere. Interact with nature, relax and build memories that last a lifetime by conveniently ordering from birdfeeders.com. Happy Bird Feeding!