Celebrate National Bird Feeding Month!
Winter is hanging tough in much of North America - the cold temperatures are stagnant, the wind continues to whip and the snow is still flurrying. As we bundle up daily in wool coats, hats and mittens, it might be the time to stop and ask ourselves- "What about the birds?"
Consider that the average wild bird weighs less than two nickels and you'll realize that the winter can be a very punishing time for your backyard friends. Which is why in 1994, John Porter, Illinois' 10th District Congressman read a resolution that February would become National Bird Feeding Month.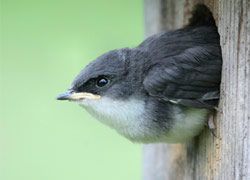 According to U.S. Fish and Wildlife Service survey results, bird watching has become one of the most popular hobbies among Americans - about 47.8 million to be exact!
Bird feeding is an important hobby in that it provides birds with food, water and shelter and benefits the environment. Plus bird feeding is such an easy and inexpensive hobby to start. A simple tube or hopper feeder and a bag of seed, and you are ready to begin. However for most people, the interest grows and grows.
We here at Woodstream continue efforts to support bird feeding during National Bird Feeding Month and throughout the entire year with four brands of hummingbird and wild bird feeders. Perky Pet®, Birdscapes®, Garden Song®, and Avant Garden® - see Our Brands page.
Now get going and feed those birds!
Don't have a feeder? Find one at our online store.
Birdfeeders.com is the top destination to find quality Wild Bird Feeders and Accessories. Perky-Pet®, K-Feeders and NO/NO® wild bird products are trusted brands to bird lovers everywhere. Interact with nature, relax and build memories that last a lifetime by conveniently ordering from birdfeeders.com. Happy Bird Feeding!