How to Plant a Hummingbird Haven
Hummingbird migration has been underway since February and now that they are making their way further north along the east coast, now is the perfect time to consider planting flowers that will lure them to your backyard.
When choosing your plants it's important to keep in mind a few criteria:
Diversity - choose a variety of sizes and colors for your landscape
Bloom factor - how often and how long do they bloom
Plant maintenance - how easy or difficult are they to maintain
Another criteria once thought to be important is color. Typically any red, trumpet-shaped plant was the plant of choice, but now we're learning that this is not the case. New studies are emerging showing that hummingbirds see a rainbow of colors just the same. So when it comes to choosing plant color, your options are wide open.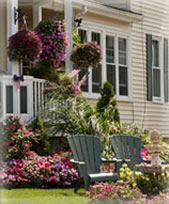 Once you've decided on the types of plants that will fit your garden and lifestyle, planning your landscape design is the next step. Designing the location of your new foliage can sometimes be overwhelming with the number of options, not to mention, even more difficult when trying to plan a hummingbird garden. So, we've chosen some popular varieties in each category to make it easier for you and the hummingbirds that visit your yard.
Perennial flower beds are a must in landscape design. Plants suitable for these include bee balm, red columbine, and hollyhock or delphinium. There are many others to consider as well, but these will get your garden beds off to a good start.
Bushes and/or vines are another part of landscape for your garden. Choose from butterfly bush, catawba rhododendrons, rose of sharon, and trumpet vine. Keep in mind that butterfly bush and trumpet vine can be invasive so plan accordingly when plotting a location for these.
Lantana plants and spreading sunset are good choices for hanging planters. These can be used in your landscape plan to spruce up your outdoor living areas such as sun porches, decks or patios.
And that's not all... silk tree, aka mimosa, is a flowering tree that not only attracts hummingbirds but also doubles as a beautiful addition to your backyard landscape. The puffy pink blooms of this tree are very aromatic and nectar rich, so be prepared for hummingbirds to swarm your neighborhood.
A few other options consist of pineapple sage, blue salvias, lady in red, and gold or red flame honeysuckle. No matter what you choose for your hummingbird garden, all of the plants mentioned above are colorful, fragrant and just the right attractants for hummingbirds near and far!
Want to attract even more hummingbirds to your yard? Check out our huge selection of hummingbird feeders now!
Birdfeeders.com is the top destination to find quality Wild Bird Feeders and Accessories. Perky-Pet®, K-Feeders and NO/NO® wild bird products are trusted brands to bird lovers everywhere. Interact with nature, relax and build memories that last a lifetime by conveniently ordering from birdfeeders.com. Happy Bird Feeding!